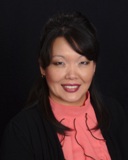 Judi Grosslight, R.D.A., Real Estate Agent
Judi has been in Dentistry since 1998. During that time, she has experienced and performed every aspect of the dental practice from chairside assisting to management. Judi's hands on experience and knowlege of the day-to-day operations gives her a unique perspective into the business needs of dentists as well as the systems needed in place for the office to run more efficiently and be more productive.
Judi is licensed as a Real Estate Agent in California. She has been successfully helping buyers and sellers with their real estate needs for three years. Prior to dentistry and real estate, Judi was in the U.S. Navy, stationed out of San Diego.
With the fortuitous opportunity to work for Premiere Practice Transitions, Judi is able to merge her knowledge & skills with both dentistry and real estate. Judi is most grateful that she gets to work for such an honest, integrous & reputable broker along side highly skilled people working together as a team to provide exceptional service to dentists and business owners throughout the country.
Judi is a member of the California Association of Realtors, National Association of Realtors, Certified in Infection Control, OSHA & HIPAA, Recent continuing education in "How to get more new patients through utilizing social media", "Telephone communications that will wow the patients","Managing with Tact & Diplomacy", "Real estate and the law (staying out of litigation)" .